Posts for: March, 2018
By Olm Orthodontics
March 17, 2018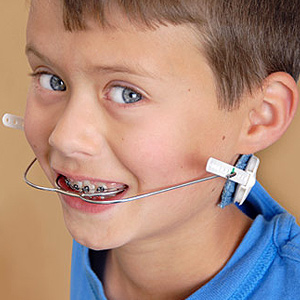 Most of us are quite familiar with what traditional braces look like. But occasionally we see more complex-looking devices being worn by young orthodontic patients: thicker wires that extend outside the mouth, with straps that may go behind the neck or over the chin. What are these devices, and why are they sometimes needed?
In general, orthodontic appliances with external parts braced by the head, neck or chin are referred to as "headgear." These devices may be used to handle a number of particular orthodontic situations, but they all have one thing in common: They provide the additional anchorage needed to move teeth into better positions.
It may come as a surprise that teeth, which seem so solid, can actually be moved fairly easily over time. This is because teeth are not fixed directly into bone, but are instead held in place by a hammock-like structure called the periodontal ligament. Using a light, controlled force — such as the force of springy wires and elastics in traditional braces — teeth can be moved slowly through the jaw bone, like a stick being pulled through sand.
Of course, to pull a stick through sand, you need a firm anchorage — your legs, for example, bracing against a rock. Most of the time, the back teeth, with their large, multiple roots, provide plenty of support. But sometimes, the back teeth alone aren't enough to do the job.
If a very large space between teeth is being closed, for example, the back teeth might be pulled forward as the front teeth are pulled back; this could result in poor alignment and bite problems. In other cases, the front teeth may need to be pulled forward instead of back. The back teeth can't help here; this is a job for headgear.
Some types of headgear have a strap that goes behind the head or neck; they use the entire head as an anchorage. Other types, called "reverse pull" headgear, have a strap that comes over the chin or the forehead; they can pull teeth forward. Headgear can even influence the proper growth of facial structures — that's why it is usually seen on preteens, whose growth isn't yet complete.
Headgear is usually worn for 12 hours per day, for a limited period of time. In some cases, rather than headgear, appliances called "temporary anchorage devices" (TADS) may be recommended. These are tiny screws that are implanted into the jawbone in a minimally invasive procedure, and serve a similar function.
While it may not look pretty, orthodontic headgear is capable of moving teeth into their proper positions in a relatively short period of time — and ending up with a great-looking smile is what orthodontics is all about.
If you have questions about orthodontic headgear, please call our office to schedule a consultation. You can read more in the Dear Doctor magazine article "Moving Teeth With Orthodontics."
By Olm Orthodontics
March 02, 2018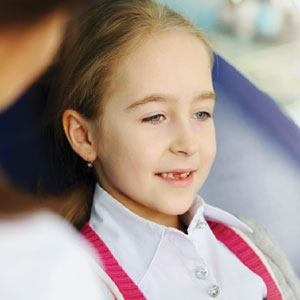 Have you heard about interceptive orthodontics? This type of early intervention could benefit perhaps 10â??20% of children who need orthodontic treatment, making a positive impact on tooth and jaw development, facial symmetry, and overall self esteem. In case you're not familiar with it, here are the answers to some common questions about interceptive orthodontic treatment.
Q: What's the difference between interceptive orthodontics and regular orthodontics?
A: Standard orthodontic treatment typically involves moving teeth into better positions (usually with braces or aligners), and can be done at any age. Interceptive orthodontics uses a variety of techniques to influence the growth and development of teeth and jaws, with the aim of improving their function and appearance. Because it works with the body's natural growth processes, interceptive treatment is most effective before the onset of puberty (around age 10-14), when growth begins to stop. It is generally not appropriate for adults.
Q: What are the advantages of early treatment with interceptive orthodontics?
A: When it's done at the right time, interceptive treatment offers results that would be difficult or impossible to achieve at an older age without using more complex or invasive methods — for example, tooth extraction or jaw surgery. That's why the American Association of Orthodontists, among other professional organizations, recommends that all kids have their first orthodontic screening at age 7.
Q: What are some common issues that can be treated with interceptive orthodontics?
A: One is crowding, where there is not enough room in the jaw to accommodate all the permanent teeth with proper spacing in between. A palatal expander can be used to create more room in the jaw and avoid the need for tooth extraction. Another is a situation where the top and bottom jaws don't develop at the same rate, resulting in a serious malocclusion (bad bite). A number of special appliances may be used to promote or restrict jaw growth, which can help resolve these problems.
Q: How long does interceptive orthodontic treatment take?
A: Depending on what's needed, a child might wear a device like a palatal expander or another type of appliance for 6-12 months, followed by a retainer for a period of time. Or, a space maintainer may be left in place for a period of months to hold a place for a permanent tooth to erupt (emerge from the gums). Interceptive treatment ends when a child's jaw stops growing.
Q: Will braces still be needed after interceptive treatment?
A: Often, but not always, the answer is yes. However, interceptive treatment may shorten the period of time where braces need to be worn, and can help prevent many problems later on.
If you have additional questions about interceptive orthodontics, please contact our office or schedule a consultation. You can learn more in the Dear Doctor magazine article "Early Orthodontic Evaluation."