Brett R. Olm, DDS, MS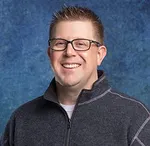 Dr. Brett Olm has been practicing orthodontics in the Green Bay area for nearly 20 years. He received his orthodontic training and earned a Master of Science Degree from Marquette University in 2000. Prior to entering his orthodontic residency, he spent one year in an Advanced Education in General Dentistry residency. He attended the Marquette University School of Dentistry from 1993-1997 at which time he received his degree as a Doctor of Dental Surgery. Prior to dental school, Dr. Olm attended the University of Wisconsin-Oshkosh for three years.
Dr. Olm is a member of the American Association of Orthodontists as well as the American Dental Association and the Wisconsin Dental Association. He is also an active member of the Brown-Door-Kewaunee Dental Society.
Dr. Olm is originally from Valders, Wisconsin. He and his wife Christina reside in Green Bay along with their two daughters and a son. As with most families many of their activities revolve around the children. They enjoy getting away on bicycle, snowmobile and ATV rides. Dr. Olm has an interest in old and new cars, motorcycles, and ATVs. He also enjoys a wide variety of music and art.